WARMING UP COMPETITION 1 100ML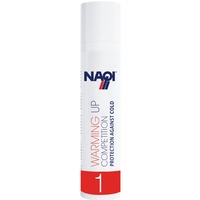 WARMING UP COMPETITION 1 100ML
The ideal protection to reduce heat loss and passively warm up the muscles for athletes with sensitive skin in temperatures below 15°C and in and humid weather conditions.
With a soft and pleasant feeling of warmth, the NAQI® Warming Up Competition 1 offers protection in outdoor sports and temperatures below 15°C and/or in rain.
The non -occlusive lipogel complements active warming up by supporting blood flow and warming up the muscles. In addition, heat release is slowed down by a protective film on the skin.
As soon as rain or mud (as well as perspiration) comes into contact with the skin, it will evaporate and draw heat away from the body. The NAQI Warming Up Competition puts a protective oil film on the skin and prevents cooling by evaporation.
With an addition of gentle oils (lavandin and marjoram), blood circulation is activated and a low concentration of camphor provides a warming effect.
Gentle heat sensation, especially for sensitive skin
Passive warming
Ideal to protect the skin in less favorable weather conditions such as cold and rain
Activates the circulation
Slows down the release of heat
Can cause redness
Does not interfere with natural skin breathing and perspiration
Use at temperatures below 15°C to warm up the muscles and protect the skin from cooling.

Use
In cold weather, gently massage legs, arms and possibly back and neck at least ten minutes before exercise. Repeat if necessary.
For external use only.
Avoid contact with the face and mucous membranes.
May cause redness.

Packaging
100 ml, 500 ml

Properties
Activates the circulation
Passive heating
Slows down the heat emission
Gentle heat sensation, especially for sensitive skin
Does not hinder natural skin breathing and perspiration"
Skin-friendly, caring and protective lipogel
Ideal in less favorable weather conditions (below 15°C and rain)
Can cause redness in very light skin types
Ingredients
Contains skin conditioning and nourishing oil with the addition of essential oils: lavandin, marjoram and camphor
Cetearyl Ethylhexanoate, Paraffinum Liquidum, Ethylene-VA Copolymer, Dimethicone, Trimethylsiloxysilicate, Lavandula hybrida Oil, Origanum Majorana Leaf Oil, Camphor, Cetearyl Alcohol, Rosmarinus Officinalis Extract.
Recommended Sales Price : 15.99 €