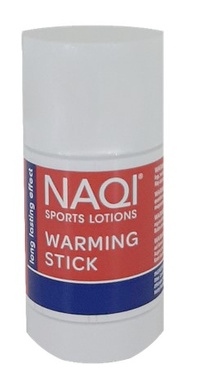 WARMING STICK 75ML
The NAQI Warming Stick is a warming wax, based on sunflower seeds, that warms up your muscles before exercise.
The warming ingredients of the NAQI® Warming Stick stimulate blood flow and provide an intense feeling of warmth.
Use it before exercise, to warm up your muscles or when your muscles are still stiff from your previous training session.
The big advantage?
The stick keeps your hands clean!

Use: Apply to legs, arms and back before exercise. Avoid contact with the face and mucous membranes. Keep out of reach of children. May cause skin redness.
Recommended Sales Price : 31.99 €