Skaterhelm - Gr. 56-60 - Green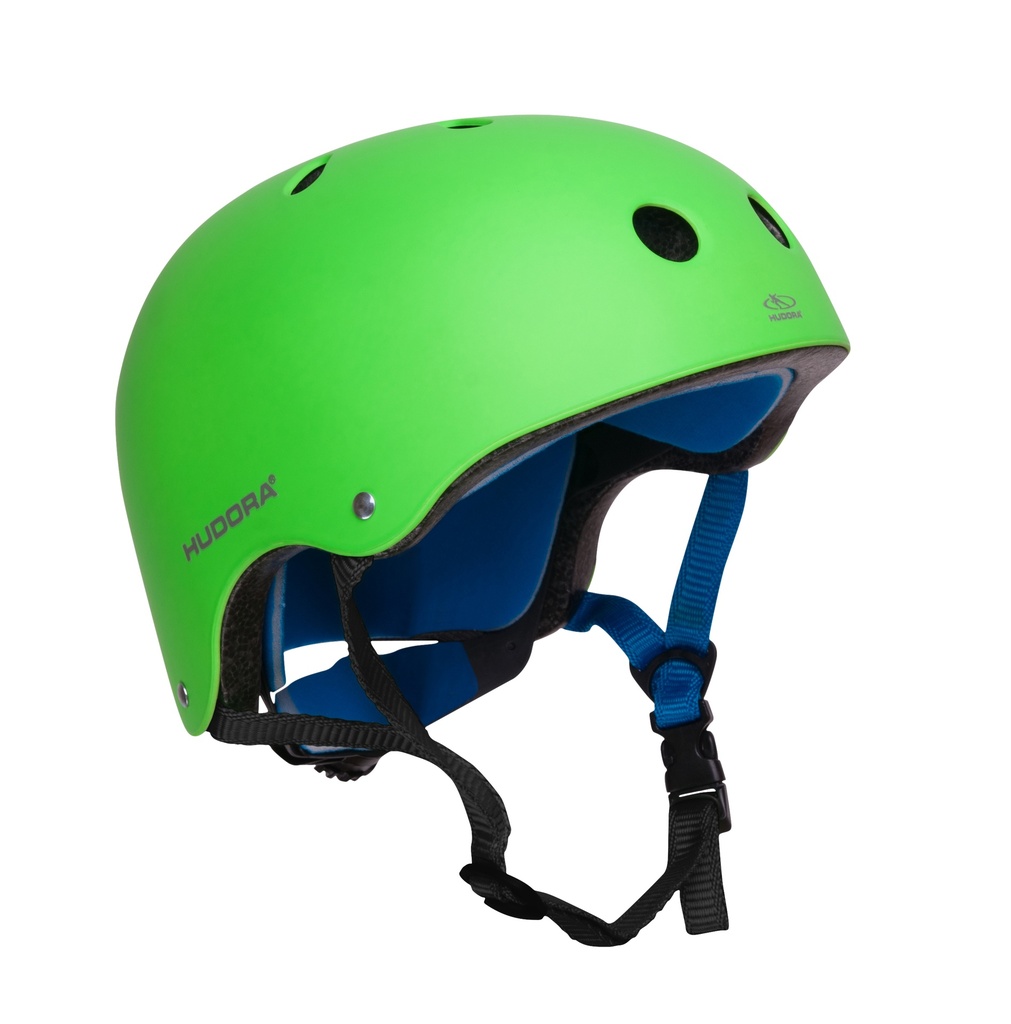 Skaterhelm - Gr. 56-60 - Green
Safety and style are not contradictory. The HUDORA skater helmet is stylish, avoids serious injuries and also feels good on the head. Initially a subculture, skating is popular today - the many skate parks around the world are proof of that. However, skateboarding is not entirely safe, as you skate on asphalt or concrete and the risk of falling is high - especially in the beginning. The robust skater helmet by HUDORA consists of an impact-resistant ABS shell with EPS foam padding. The extra-soft interior ensures pleasant wearing comfort. Retroreflective elements make skating in the dark safer. Eleven Air-Vent ventilation openings, some with insect mesh, prevent hair from sweating under the skate helmet. If you want to make skateboarding a long-lasting pleasure, you can't really do without a skate helmet. It's great when it also looks cool and casual. The helmet is available in two sizes - for a head circumference of 51-55 cm and for a head circumference of 56-60 cm.

Robust helmet Shell made of impact-resistant ABS
EPS foam padding
Comfortable size adjustment with knob
Adjustable chin strap
11 Air-Vent ventilation holes
Insect mesh front
Retroreflective safety stickers
Adjustable over 5 sizes
Available in 2 sizes: For head circumference from 51 to 55 cm and for head circumference from 56 to 60 cm.


"Children should never ride a scooter without head protection."

This is what the ADAC recommends, and of course it also applies to other children's vehicles, such as running bikes or bicycles. In fact, the introduction of a general helmet requirement has been debated in Germany for some time. In a 2015 YouGov study, 58% of those surveyed said they would be in favour of making helmets compulsory - at least for certain groups of people. Even though helmets are not yet compulsory in Germany, fortunately the number of accidents on the way to school has been falling steadily since 2010, thanks in part to increased safety awareness and better training for kids.



We support safety. A special safety feature: the GS mark. This seal guarantees "tested safety". Testing is voluntary for the manufacturer and not required by law. It indicates that an approved testing centre has determined after thorough examination that the product complies with all safety regulations.

IMPORTANT: After a fall with a helmet - even if it is superficially harmless - a new helmet is due, even if the old one still looks intact.

Caution: Only to be used with protective equipment. Not to be used in road traffic. For further information and warnings, please refer to the instructions for assembly and use.
Recommended Sales Price : 32.99 €